Why Bitcoin Is Flying Even Higher And Faster
Summary
Bitcoin is up over 42% this month.
Ethereum is up only 5% and Litecoin only up 6% during this time.
Correlations, forking, history and Bitcoin's 8x price movement superiority are explained along with potential trading opportunities.
If you're going to invest in Bitcoin then you need to wrap your head around the fact that there's an entire market of cryptocurrencies. In other words, there's competition. As a result, this opens up opportunities for speculation and trading. There might be a short term play (or two) worth considering.
First, take a look at Coinbase to see how Bitcoin has moved in the last month: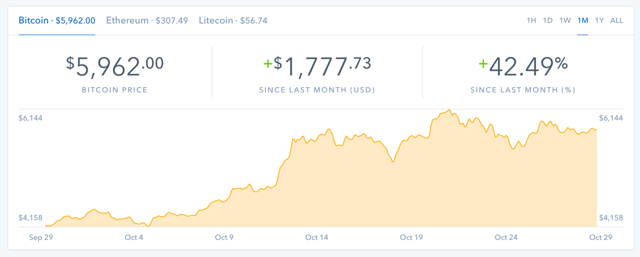 Pretty easy to see that it's up over 42%.
Now, take a look at Ethereum: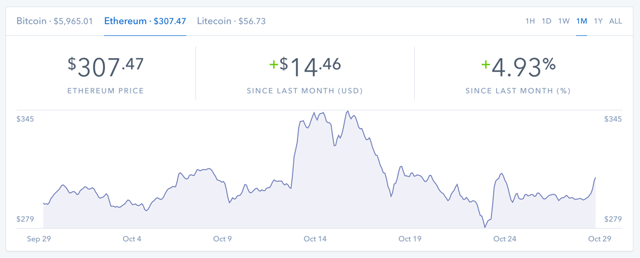 Up about 5%. That's pretty weak compared to Bitcoin.
Typically, the top cryptocurrencies have moved in tandem, although they are are not perfectly correlated. To provide further clarity and provide you with some real numbers, take a look at this correlation matrix: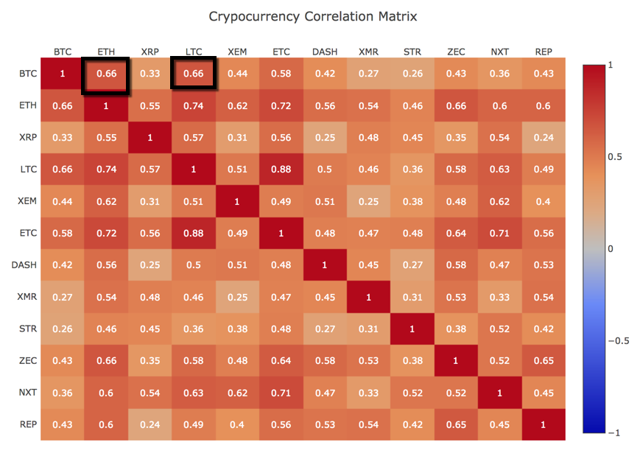 Source: sifrdata
You can see that Ethereum (and LiteCoin) are 0.66 correlated with Bitcoin.
0.5 to 1: Strong positive relationship
0.3 to 0.5: Moderate positive relationship
0.1 to 0.3: Weak positive relationship
The 0.66 correlation tells us that there is a strong albeit not 1:1 correlation between Bitcoin and Ethereum. In fact, they are all kind of "hot" and moving upward in price.
So, we know that over the last 90 days Bitcoin [BTC] and Ethereum [ETH] have moved together but we also know from the price charts that Bitcoin moved "big time" compared to ETH; eight times as much in the last 30 days.
The Bitcoin Cash History Lesson
The best explanation for the BTC movement versus ETH is that Bitcoin is getting close to forking again. Let's start with, "What's a fork?"
A "fork" is a change to the software of the digital currency that creates two separate versions of the blockchain with a shared history. Forks can be temporary, lasting for a few minutes, or can be a permanent split in the network creating two separate versions of the blockchain. When this happens, two different digital currencies are also created.
While many people think about Bitcoin as an investment or a currency, it's important to remember that it's also a technology. Yes, Bitcoin is software and it's a network.
Now, for some quick history, back on August 1, a hard fork of the Bitcoin blockchain created Bitcoin Cash [BCH].
As a result of this, money was practically created out of thin air. "Bitcoin" [BTC] itself barely moved from that fork and then just kept moving up again. See for yourself: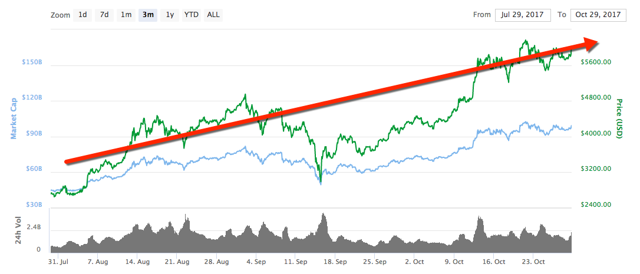 The Bitcoin fork creating Bitcoin Cash didn't hurt a bit. Plus, this new Bitcoin cash went from a value of $0.00 (because it didn't exist) to this: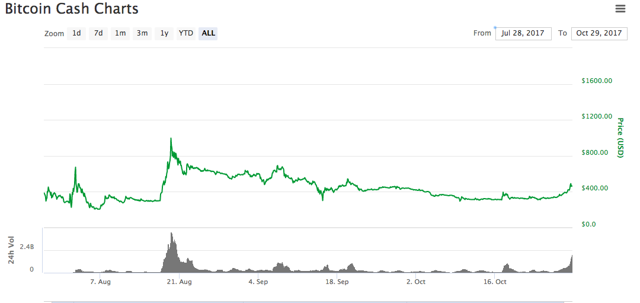 Bitcoin Cash is worth about $470 right now and until the fork it didn't even exist. In other words, since Bitcoin didn't lose value and Bitcoin Cash was created out of thin air. Basically, you're looking at free money.
Yes, the fork created free money for most people holding Bitcoin. Therefore, it's pretty obvious why everyone is so interested in holding regular Bitcoin again right now.
With a new fork coming in late November, Bitcoin investors are hoping for another Bitcoin Cash to happen, where holders get the new token just for holding on to BTC.
To add some color to this, here's exactly what Coinbase has to say:
The Bitcoin Segwit2x fork is projected to take place on November 16th and will temporarily result in two bitcoin blockchains. Following the fork, Coinbase will continue referring to the current bitcoin blockchain as Bitcoin (BTC) and the forked blockchain as Bitcoin2x (B2X).

Any customer with a BTC balance on Coinbase at the time of the fork will be credited with an equal amount of the B2X asset on the Bitcoin2x blockchain. No action is required — we will automatically credit your account. So, if you have 5 BTC stored on Coinbase before the fork; you will have 5 BTC and 5 B2X following the event. (Emphasis Coinbase)
Again, you don't need to understand the technology perfectly here. What matters is that with history and experience from the Bitcoin Cash fork, investors are clearly loading up on Bitcoin.
It's hard to ignore what this is doing to the entire cryptocurrency market right now. Ethereum and Litecoin, for example, are barely moving up compared to Bitcoin. Given the normally high correlation of BTC to ETH, and BTC to LTC, this is quite clear to my eyes.
Two Quick Trades to Consider
Obviously, because of the flow to Bitcoin in anticipation of the fork, there are some opportunities. What trades work here?
First, you might wish to invest in some Bitcoin in anticipation of the fork. There's no guarantee that this will work out like Bitcoin Cash. But, it's definitely an opportunity if you can tolerate the risk.
Per the notes above, Coinbase is one place to invest to keep it simple. Clearly, they are responding to demand and they are keeping their community updated on the Bitcoin Segwit2x fork, and what that means for a new currency.
So, that's the first trade. It's pretty simple and it's something of a gamble based on previous fork history. It's absolutely not meant to be sophisticated but it could pay a nice little dividend, of sorts.
The second trade comes very shortly after the Bitcoin Segwit2x fork. Once that for happens in November, a relatively simple guess is that investors will turn their eyes to the alternatives.
To keep things very clear, I'm talking about how fiat money (U.S. dollars for example) and Bitcoin will move into Ethereum and LiteCoin, as well as many other cryptocurrencies. The money that's been pouring into Bitcoin will likely slow down a bit, but others like Ethereum and Litecoin will pick up steam.
I generally don't like trying to guess or use a crystal ball, but I feel like this is the right story. Bitcoin is getting extra benefits from the fork and Ethereum, Litecoin and the others are being suppressed a bit. Bitcoin is the big winner right now. However, once the fork happens, the pressure will then move sideways into other cryptos. Ethereum and Litecoin, for example, will start pushing up even faster. I wouldn't be surprised if ETH and LTC grow 2-3x faster than BTC after the fork. Of course, all of this assumes that there's no general cryptocurrency catastrophe (e.g., regulation). Stay safe out there.
Disclosure: I/we have no positions in any stocks mentioned, and no plans to initiate any positions within the next 72 hours.
I wrote this article myself, and it expresses my own opinions. I am not receiving compensation for it (other than from Seeking Alpha). I have no business relationship with any company whose stock is mentioned in this article.
Written by SeekingAlpha
Bitcoin Cash Developers Set Date for November Hard Fork
The open-source developers behind bitcoin cash appear to be sticking to their word.
Following a pledge in August to change the code as necessary to stay competitive, the developers behind the alternative bitcoin software took a step toward following through this week. In a post yesterday, developers behind one of the bitcoin cash clients revealed they will seek to change the software's rules via a hard fork on November 1.
To be activated on November 13, the new software will seek to adjust rules set in the initial split with the bitcoin blockchain, one that also hints at larger criticisms about bitcoin cash's economic network. In particular, the change will attempt to reverse a piece of code, called the emergency difficulty adjustment (EDA) rule, meant to help bitcoin cash better attract miners willing to secure its blockchain.
As bitcoin and bitcoin cash both use the same mining algorithm, miners operating compatible hardware have shown a willingness to switch between the networks. As such, the idea behind EDA was that mining difficulty could be dynamically adjusted down as necessary to attract miners with profits.
However, while beneficial after the launch, developers believe the rule has outlived its utility to the network.
"This is problematic [now] because it prevents consistently fast confirmations for users, and radically shifts the coin issuance schedule," the post reads.
In its place, a new algorithm would adjust every 600 seconds, based on the amount of computing power that was provided to the network over the previous 144 blocks. The idea is that difficulty would be adjusted quickly, in response to real-time miner activity.
According to the post, members of the development team are now in touch with exchanges, wallets and miners in an attempt to raise awareness for the proposal.
Fork image via Shutterstock
Written by CoinDesk
EU Government Pegs Blockchain as Beneficiary of €30 Billion Research Fund
The European Commission has announced €30 billion on new investments in technology initiatives including those involving blockchain.
The funding would come through the Horizon 2020 initiative, which to date has been supported by €77 billion in public funding.
The goal is to support new investments in the areas of "migration, security, climate, clean energy and digital economy", as well as "breakthrough, market-creating breakthrough[s]," according to a statement from Oct. 27. Clean energy is poised to be a major area of focus, with €3.3 billion expected to be committed between 2018 and 2020.
As previously reported by CoinDesk, the Horizon program has been the source of as much as €5 million in financial support for blockchain projects within the EU to date. Indeed, the European Commission has expressed support for committing funds to blockchain research in the past, including work on projects like a database of public company data built on the tech.
While it's not clear how exactly the funds will be spent in relation to blockchain, a representative for the Commission highlighted blockchain's role in the effort in a statement.
"Artificial intelligence, genetics, blockchain: science is at the core of today's most promising breakthrough innovations. Europe is a world leader in science and technology and will play a major role in driving innovation," said Carlos Moedas, commissioner for research, science and innovation.
Image Credit: roibu / Shutterstock.com
Written by CoinDesk
Bitcoin-Related Jobs Booming Along With Bitcoin
International employment marketplace Freelancer has noted that Bitcoin-related jobs are the highest growers, hitting 82 percent growth in the third quarter alone.
Work relating to Bitcoin, Blockchain, and other related markets is skyrocketing as the cryptocurrency currency heads towards the mainstream, pulling in more and more to feed the ecosystem.
The company's periodic report tracks top trends in online jobs based on the listings on its Freelancer.com platform.
ICO boom
Freelancer notes that a lot of the growth is coming from companies that are looking for freelancers to design new coins, essentially helping them launch ICOs.
"People are getting freelancers to design new types of cryptocurrencies," Matt Barrie, CEO of Freelancer, said.
One of the main skills for which companies are looking is the ability to manage an ICO. ICOs have been seen to be highly lucrative, and many are popping up all over the place. However, recent regulations have slowed down the frenzy.
It is not only the developers and designers of these new coins that are in such high demand for new ICOs according to Freelancer. Employers are looking for people to create new cryptocurrencies but also to write proposal plans for technologies employing Blockchain.
Cryptography
The related field of cryptography saw the number of job listings rise 59 percent in the third quarter, according to Freelancer. Cryptography is essentially the underlying theory upon which the Blockchain and by extension Bitcoin is based.
It is not only useful in cryptocurrency, but it is also a skill that has played a significant role in Internet security and privacy.
Job quality
Not only is their a higher demand for crypto-workers, but the jobs on offer are also decidedly better than most in a similar field.
A report done in September found cryptocurrency jobs pay, on average, 10 to 20 percent more than the industry norm. Further, they offer better benefits.
Second, cryptocurrency companies have far more flexible remote working perks. In fact, within cryptocurrency companies, employees are 22 percent more likely to have remote working freedom.
Third, cryptocurrency companies and especially ICOs offer far superior liquidity options. Typical equity positions require a liquidity event in order to be sold and have complex restrictions. ICOs generally offer employees coins as part equity positions. While those coins may still have some restrictions, they are far more liquid that options.
Written By CoinTelegraph
10 Surprising Celeb Bitcoiners
While Bitcoin is not the sleek and sexy plaything of the rich and famous, it certainly is no longer only a tool for the tech-savvy computer whizzes. The mainstream appeal of Bitcoin has seen it spread across different demographics, from retired grandmothers to some of the world's biggest rappers.
Celebrities have been used to market certain ICOs, as well as be the face of a host of different coins, but many celebrities have chosen to invest their immense wealth into digital currencies.
The Top 10
In true Hollywood-style, we go through 10 of the more surprising celebrities Bitcoiners.
1. Ashton Kutcher
Perhaps this comedy star and well-known 'That 70s show' actor is not too surprising as with Kutcher maturing in Hollywood, he has also become quite business savvy. The actor has appeared on Shark Tank a few times. He is the co-founder of BitPay investor A-Grade Investments. Moreover, he is a poster-boy for breaking with convention and the decentralized approach to life.
2. Floyd Mayweather
It may seem a bit tired now, but Floyd Mayweather was the first big celebrity to be used to promote an ICO. He was utilized when he was at the peak of his fame in the build-up to his fight with Conor McGregor. It is quite interesting to see how many ICOs Mayweather is planning to shill in the coming months. So far, he has been involved with at least two projects people know of, although it doesn't appear as if this will be the end of it either.
3. Drew Carey
Another one of America's funnymen. The former host of 'Whose Line is it Anyway' was one of the earlier adopters of Bitcoin and spoke in promoting quite understatedly. He said a few times that he was a big believer in its potential for mass adoption; however, he has been a little more muted of late.
4. The Game
Rapper, The Game, is another one who is endorsing a cryptocurrency, but probably a little more involved in it than that. The Game has been brought on by ParagonCoin, an ICO aimed at the marijuana ecosystem, as an advisor and for The Game, it is another venture into the marijuana market. The hip-hop star became an official partner in a dispensary, marketing his own strain of weed- Trees by Game.
5. Harry Redknapp
Many scoffed when the 70-year-old former West Ham United, Portsmouth, Tottenham Hotspur and Birmingham City manager tweeted that he was "proper excited" about ICO Electroneum.
It was all the more surprising that Redknapp was entering the crypto market as he once stated, in a case about tax fraud, that he did not know what an email was and he was technologically inept. However, Electroneum responded saying the former manager had not been paid for his tweet.
6. Donald Glover
The actor of Community fame and rapper under the name of Childish Gambino is one celebrity endorsement that can be trusted as his promotion of digital currencies is not attached to an ICO. During one of his interviews, he mentioned how Bitcoin could become a big success in due time.
7. Mel B
An often-heard complaint is how there aren't enough women involved in cryptocurrency. Mel B is one of the few musical artists to accept Bitcoin payments for her music. It is unclear if she will accept the digital currency for her future albums as well, but the chance is very real that this partnership will continue for quite some time to come.
8. Luis Suarez
The Uruguayan footballer, playing in Spain, seemed to have been used in a similar manner as Floyd Mayweather, promotion the same prediction market ICO. However, Suarez used his Spanish influence to spread the news to the country he played his football in.
9. Gwyneth Paltrow
More strong women in the cryptocurrency world can only be considered to be a good thing right now. Paltrow is a world-renowned actress as well as a cryptocurrency advisor. More specifically, Abra chose the actress as the startup's advisor during a recent episode of Planet of the Apps on Apple TV.
10. Snoop Dogg
It is somewhat of an open secret that Snoop Dogg has been a fan of cryptocurrency for quite some time now. Although his initial plan to accept Bitcoin payments for a new album turned out to be a farce, Snoop Dogg never fully closed the door on the possibility.
Written By CoinTelegraph