Bitcoin is for losers, right?
Get this: anyone who invested £300 in Bitcoin six years ago will now be sitting on a cool £13.8 million. If you did exactly that and are currently reading this over a glass of Armand De Brignac aboard your 100ft superyacht, then bully for you. If, however, you don't understand what Bitcoin is, let alone know how to get hold of any, it's time to gen up. There could well be more money to be made and chances are that someone you know has already bought in. Got fomo? Here's a quick-start guide…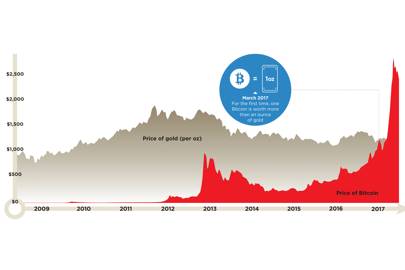 What is Bitcoin?
Bitcoin is a digital currency whose every coin and transaction is tracked on a huge database called the blockchain. Rather than existing in one place, this database is held by all Bitcoin users. Like any currency, it has a value in terms of others – dollars or pounds – and, as people have become interested in its potential, Bitcoin's value has soared. It has been the best-performing currency globally every year since 2010 (apart from 2014 when it was, err, the worst).
How to buy Bitcoin
Good news: you don't have to buy a whole Bitcoin – at the time of publishing this, that would cost you £3,360. Instead, you can snap up as tiny a fraction of one as you please. The most user-friendly method is to download a free mobile app called Coinbase. You can transfer local currency to your Coinbase "wallet" via a credit or debit card and buy or sell Bitcoin at the click of a button for a small fee. Coinbase also lets you invest in two rising-star "alt coins": Ethereumand Litecoin.
Alt coins?
These are cryptocurrencies other than Bitcoin and there are hundreds of them. Some have been set up as a joke, such as Dogecoin (because: geeky internet memes), but others – including Monero, Ripple and Dash – have the potential to go far. Ethereum, which recently won backing from Microsoft and JP Morgan Chase, is up 900 per cent this year.
What are the risks of buying cryptocurrency?
Buying cryptocurrency is a crapshoot. It's highly volatile: the last time the US stock market fell by more than ten per cent in a day was back in 1957; Bitcoin has seen more than ten per cent wiped off its value 38 times since January 2012. A cryptocurrency could also be obliterated overnight. Should major governments regulate hard against it or hackers manage to break its security, that's your money up in smoke. What's more, criminals have been stealing from online wallets (though that is avoidable: keep your cryptocurrency offline if you own a significant amount).
How much could I make?
Depends on who you listen to. The doom mongers say that we're in a cryptocurrency bubble that's about to burst (indeed, the market took a steep downturn recently), while others believe a single Bitcoin could be worth $500,000 by 2030. A handful of GQ staffers have already made a small profit (count that as our full disclosure). If you end up hitting pay dirt, make ours a double.
A brief history of Bitcoin
Why a $2.3 Trillion Investment Firm is Studying the Structure of Bitcoin
Earlier this year, Abigail Johnson, the CEO of Fidelity, a major financial services company and investment firm with over $2.3 trillion worth of assets under management, revealed that Fidelity has been studying the structure and the use cases of bitcoin as a store of value, a digital currency, and a safe haven asset.
Fidelity's Bitcoin Mining Operation is Profitable
As a part of its larger initiative, Fidelity has been mining Bitcoin and Ethereum to grasp a better understanding of the decentralized structure of bitcoin, and testing bitcoin payments and two-layer solutions. While Hadley Stern of Fidelity Labs told Fortune that the company's mining venture is "very modest" in comparison to that of multi-billion dollar mining companies in China such as bitcoin, Johnson noted that the Fidelity mining operation is still driving significant revenues.
For Fidelity, Johnson, and its researchers including the Fidelity Labs development team, the primarily purpose of mining bitcoin and other cryptocurrencies such as Ethereum has been to explore, investigate, and analyze the structure of bitcoin. Stern explained that through mining, Fidelity Labs has been focusing on studying various aspects of bitcoin, such as its consensus protocol, difficulty level adjustment, and how a decentralized ecosystem can be sustained securely.
"Think of it as an experiment. The real reason we began mining, and still do, is to learn how the network works, how consensus works, how difficulty levels work," Stern told Fortune.
Some of the largest investment banks and firms in the US such as Goldman Sachs and Morgan Stanley have publicly expressed their optimism toward bitcoin and the cryptocurrency market. Earlier this month, it was revealed by The Wall Street Journal's Paul Vigna that Goldman Sachs is considering the launch of a cryptocurrency trading platform to address the growing demand from its clients for bitcoin.
As Axel Pierron, managing director of bank consultant Opimas, explained:
"They're clearly receiving interest from their clients, both from retail investors and on the institutional side. It's highly volatile, it's highly illiquid when you need to trade large volumes, so they see the opportunity for a new asset class which would require the capability of a broker-dealer."
Last month, Bitcoin developer Andrew DeSantis and long-time bitcoin trader IamNomad also disclosed the transactions between JPMorgan Securities Ltd. and Bitcoin XBT, a Bitcoin exchange-traded note (ETN) provider in the Swedish Nordic Nasdaq, demonstrating that JPMorgan clients have been investing in bitcoin through regulated channels and investment vehicles.
Banks can either provide sufficient liquidity for bitcoin traders and address the growing demand for cryptocurrencies from their clients, or leave the business for third party service providers and cryptocurrency exchanges such as Coinbase, Gemini, and Bitfinex.
Stern emphasized that Fidelity has made increasing efforts to understand the technology behind bitcoin and serve traders, investors, and clients in the cryptocurrency sector. In that aspect, Stern stated that Fidelity has placed itself in an advantageous position over other firms in the sector.
"It's another way to assess market demand, get our hands a bit dirty with the technology, and learn what's going on," he explained.
Featured image from Shutterstock
Written by Cryptocoinsnews
Cryptocurrencies: surge in value prompts fears of 'dotcom-style' bubble
An explosion in the value of so-called cryptocurrencies over the past year has prompted fears of a market bubble and crash that could have serious implications for the global economy
How have they performed this year?
Over the past year, cryptocurrencies have attained record valuations. The price of Bitcoin, the most well-known cryptocurrency, has soared from $969 in January to more than $5,000 in September. A rival currency Ethereum began the year at $8 and is currently trading at $400.
According to Token Report, a database of cryptocurrencies, initial coin offerings (ICOs) have raised £2.27bn this year, compared with just £100m in 2016. New coins or tokens are issued weekly, often attached to tech start-ups as a way to raise venture capital.
What is the problem?
Cryptocurrencies were supposed to offer a secure, digital way to conduct financial transactions "but they have been dogged by doubts" largely focused on their astronomical gains in value and the likelihood of painful price crashes, says The Independent.
There are also concerns about the virtual exchanges where billions of dollars worth of cryopcurrencies are traded.
Many are plagued with poor security and lack investors' protections common in more regulated financial markets. The Independent estimates at least three dozen heists of cryptocurrencey exchanges have taken place since 2011 with more than 980,000 bitcoins stolen, adding up to a total value on today's market of about $4bn.
What is being done to regulate the market?
Earlier this month, the Chinese government defended its decision to outlaw token sales and efforts to outlaw coin exchanges. It follows a ruling by the US Securities and Exchange Commission in July which said ICOs qualified as securities and therefore fell under its jurisdiction.
At the same time, Japan's government is looking to implement rules that recognise Bitcoin as an official payment method while India and Sweden are also believed to be exploring launching their own virtual currency.
Last month, Goldman Sachs confirmed it was setting up a new trading operation that would make it the first Wall Street bank to deal directly in the crypto market.
However, despite pressure from investors, there is still widespread apprehension among most major banks about entering a market that has traditionally been the preserve of criminals and drug dealers.
Banks say they are also concerned about the due diligence cryptocurrency exchanges do on their customers to guard against money laundering, criminal activity and sanctions violations. It is widely believed that the North Korean government trades in cryptocurrencies as a means of circumventing international sanctions.
So are cryptocurrencies here to stay?
The Guardian says that while opinion is divided on whether cryptocurrencies are approaching the end or "just getting started as a rebellious, anti-institutional, anti-government, frictionless currency, across the board there's a growing wariness that there could be a correction, a shake-out in the crypto party, especially in the market for initial coin offerings".
Speaking to the paper, the venture capitalist and crypto investor David Siemer equates the current market of around 1,000 digital currencies and token-like "alt-coins" to 1995-1996 in the dotcom revolution.
"In 1995, the entire internet world was worth around $80bn. The entire cryptocurrency space right now is valued at around $170bn. In 1995, there were 24 million internet users, and there's not even 20 million in crypto. The analog is almost perfect across every level," he said.
According to Siemer, the analogy of the dotcom bubble is particularly relevant when predicting what could be in store for the likes of Bitcoin over the next few years.
By the mid-1990s, the dotcom crash of 1999 was still a few years off "but so too was the potential to create economic giants like Google, Amazon and Facebook".
Written by The Week
Gaining interest: Bitcoin value surges in India
he crypto currency's volumes have risen sharply on exchanges this year
This year has proved to be a landmark for bitcoin, the most popular crypto currency.
The value of one bitcoin has increased from $968 in January to $4,370 now, giving over four-fold returns. The value of a bitcoin traded on Indian exchanges has also jumped similarly — from ₹68,000 to ₹2,95,000 this calendar.
Rising prices are attracting investors and traders by the droves in India.
"This is our fourth year of operation. Towards the beginning of this year, our customer base was one lakh. In the first nine months of this year, it has gone up by five times, we are about to hit the five lakh customer mark," says Sathvik Vishwanath, Co-founder and CEO, Unocoin, a bitcoin exchange operating in India.
Zebpay, the largest bitcoin exchange operating in India, has also witnessed a sharp increase in activity this year. Sandeep Goenka, Co-founder and COO, Zebpay, says that the exchange has doubled its user base in the last 3-4 months. The number of users on the platform hit a million recently.
Bitcoin received a major boost when Japan recognised the crypto currency as a kind of prepaid payment instrument from April this year. The credibility of these currencies also got a fillip as a few other countries, including China and Australia, also took small steps to regulate bitcoin exchanges.
This has boosted the market cap of traded crypto currencies to $149 billion from under $25 billion in March this year. While bitcoins account for half the market cap of crypto currencies, others such as Etherium (20 per cent of market cap), Ripple (6 per cent) and bitcoin cash (5 per cent) are also popular.
Viewed against global volumes, India is a minuscule market. While globally $2-4 billion worth of virtual currencies are traded every day, volumes in India are below ₹100 crore per day. But interest in the currency seems to be catching on here as well.
Traders' profile
Those trading on bitcoin exchanges come from all parts of the country, including Tier II and Tier III cities, according to the bitcoin exchanges. "They are between 25 and 40 years in age. Eighty per cent are male and 20 per cent, female," says Vishwanath.
There are some who invest small sums, maybe around ₹5,000 to ₹10,000 per month in bitcoins, says Goenka. While the value of one bitcoin is close to ₹3 lakh, an investor can buy a fraction of the bitcoin if he wishes. "Some freelancers get paid in bitcoins, some get bitcoins through mining, these are also traded on these exchanges."
Bitcoin is viewed as an alternative asset class, but it has a long way to go before it becomes a legal medium of exchange in India. The RBI is yet to give a nod to crypto currencies though it is reported to be toying with the idea of adopting blockchain technology and issuing a digital currency of its own.
The government has also stayed neutral so far, though it is closely watching the developments on this front.
"These currencies can be used on online sites such as Expedia, Dell and Microsoft to make payments. But it is yet to catch on in India. Some sweet shops and other outlets in Mumbai are said to be using bitcoins, but it is more of a marketing gimmick," says Goenka.
Yes to blockchain
There is, however, consensus that the technology underlying virtual currencies — blockchain — can be a game-changer in future as far as maintaining public records go. This is an open ledger maintained in computer systems all over the world.
Companies such as Wipro and IBM are already working with banks and financial institutions to explore how to improve their systems using blockchains. Experts expect to see results in India by early next year. Many institutions, including banks and insurance companies, are considering adoption of this technology.
Written by the Hindu Business Line
A gentleman's guide to Ethereum
What is Ethereum?
Ethereum is a big network of computers connected over the internet, each one storing a copy of a database, and was originally conceived by Russian developer Vitalik Buterin, 23. That database is a ledger, or a record of a series of transactions that have taken place between different accounts. In other words, it's a giant set of accounts and a record of the transactions between them which is open for anyone to inspect. This ledger, in cryptocurrency parlance, is known as a blockchain, because transactions are grouped into blocks, and blocks are chained together one after another to form the ledger.
What is Ether?
The currency in use on the Ethereum network is called Ether.
How does Ethereum work?
The computers on the Ethereum network aren't special in any way. They can be laptops, Raspberry Pis, servers, desktop computers and more – essentially any kind of typical computer can become a part of the Ethereum network. Computers that join cryptocurrency networks like Ethereum are usually known as nodes.
Each node has a copy of the blockchain, and because it's stored on so many computers that means taking down the network is extremely difficult to achieve. If there's no single entity to take down, how do you "stop" Ethereum? You can't – not easily anyway, short of turning off the internet (and good luck with that). It's similar to the principles that other technologies like bittorrent and other peer-to-peer services are built on – there's enough copies of the data around that stopping the existence or spread of it is extremely difficult to the point where it's realistically impossible.
Why does Ethereum and Ether exist?
The main advantages of cryptocurrencies (of which Ethereum is just one) are that money can be sent anywhere in the world at any time, almost instantly, with no transaction cost. There are no Ethereurm middlemen, borders or financial institutions to please or navigate.
Depending on the currency, you're pretty much guaranteed to be 100 per cent in control of your money. Due to the cryptographic technology behind blockchains, identities behind accounts are virtually anonymous and once money is sent, it's sent. It's impossible for any person or institution to step in and say, actually, we're going to seize your money or reverse a particular transaction (like your government or high street bank can). Money sent is money sent – and that's the end of it. Given these properties, you can see why the Silk Road came into existence.
How is Ethereum different from Bitcoin?
If you know even a little about Bitcoin, you'll probably think that Ethereum sounds similar to Bitcoin. You'd be right, except for one small yet important detail: the Ethereum network is programmable. Bitcoin, by contrast, is passive – if you want to make a transaction, you do it yourself by loading up your wallet, input an address and an amount, and hit "send". Then you only need to wait for the transaction to be confirmed by the network.
Ethereum is active rather than passive, as it has its own programming language called Solidity. Because the Ethereum network is programmable, and if every node on the Ethereum network is guaranteed to have the same data and execute the same code, then the Ethereum network could potentially become a giant, distributed supercomputer upon which anyone can execute code.
While you could write a very simple "smart contract" similar to what we know as a standing order in the UK, which can be used to pay a landlord rent your every month, there is the potential for much more sophisticated solutions.
In a normal situation, you pay your landlord rent and she or he gives you the keys to her apartment for you to live in. There's an element of trust there – you pay the rent, and you hope the landlord then honours their end of the bargain and gives you the keys. With a smart contract, the landlord would place a digital key (imagine the apartment has a digital code entry system rather than locks and keys) into escrow. If you pay the rent, the key is guaranteed to be released to you. If you don't, the key isn't released. Given there are many thousands of computers on this globally distributed network witnessing and enforcing this code, you can rely on the fact that the contract between you and the landlord will be honoured.
This hypothetical example is exactly the kind of idea which hasn't been possible until now, and is fuelling the hype around smart contracts, and hence Ethereum. It's possible that a killer feature built on top of Ethereum could change the world to a similar degree as the internet or smartphones. This potential is precisely the reason why values have skyrocketed from $10 in January this year to $360 at the time of writing.
Where do I get Ether?
The easiest way to get Ether at the moment is if you're already a holder of Bitcoin. Simply set up an account on a cryptocurrency exchange like Poloniex, send your bitcoin to the exchange, and trade it for Ether.
The second easiest way is to sign up to a cryptocurrency broker like Coinbase or Kraken. After supplying some identification documents (something which breaks the anonymous nature of cryptocurrency somewhat) you can purchase Ether with a credit or debit card. There are typically limitations on the amounts you can purchase every week, but if you're super serious and wish to invest a lump sum, you can transfer larger amounts via bank transfer to Coinbase and acquire much larger amounts of Ether (as well as Bitcoin and Litecoin).
The hardest way to get Ether is to mine it. This involves processing transactions on the Ethereum network, and the reward for doing this is to be paid in Ether by the network itself –
this is the root process, the oxygen if you will, which keeps cryptocurrency networks running. Mining takes a lot of time and a deeper knowledge of cryptocurrency, and given the value of Ether currently, is the least cost effective way – for the money you'd spend on electricity, you'd get more Ether by buying it from a broker. But, it would keep you virtually anonymous if you did mine it.
How do I store Ether?
Ether, like all other cryptocurrencies, is stored against addresses – the equivalent of your bank account number and sort code. Each address has a key which needs to be kept ultra secure. That key is the key to operating the account, and with it, and only it, your Ether can be transferred to another address or account. As we already know, once Ether is transferred, it's transferred – there is no going back, hence the need to keep the key to your account very secure, and be very careful who or what you send Ether to. One typo in the account code (which is a string of characters) and the currency is gone forever.
How do I keep my Ether secure?
There's a number of ways of keeping your Ether secure. The first is the most basic way, and that's to generate something called a paper Ethereum wallet. It's called a paper wallet because you literally generate an account number and key, and then print it out for safe keeping while leaving no trace of it on your computer. The idea being that if it's not left on your computer anywhere, then computer is compromised by malware, the malware won't be able to search your computer for any account numbers and keys left around.
Another very popular way is to use a hardware device such as a Ledger Nano. Ether is stored on the device itself, and only those with physical access to the device can remove currency from it.
Written by British GQ
Bitcoin Price is Hitting Above $4,500 Again
Bitcoin price surpassed the $4,500 mark Sunday, reaching $4,614.91 Sunday, posting a market capitalization of $76.662 billion. Bitcoin posted close to a 5% gain in the last 24 hours, during which most cryptocurrencies posted losses.
Ripple and Litecoin were the only other two of the top 10 cryptocurrencies to gain in the period, posting 15.6% and 2.02% gains, respectively. BitConnect, the number 12 crypto with a market cap just over $1 billion, was the only other crypto with more than $1 billion in market capitalization to post a gain, grabbing 4.36%.
Bitcoin commanded more than half of all cryptocurrency market valuation, accounting for 50.03% of all market value. Ethereum accounted for 19.39%, the only other crypto to rank in double digits. Bitcoin had also surpassed the 50% mark earlier in the week.
Bitcoin Stabilizes Crypto Markets
In the past week, the bitcoin price provided the markets with a stabilizing force. Despite falling prey to the mid-week downtrend, the bitcoin price ended the week at $4,335, which then represented a week-over-week gain of about one-half of one percent.
Tuur Demeester, a prominent bitcoin investor, analyst, and editor in chief at Adamant Research, recently predicted the bitcoin price would surpass the $5,000 mark if support towards SegWit2x declines in the next few days. Uncertainty around SegWit2x has held back the momentum of bitcoin and its short-term rally. Several business have pulled out from the SegWit2x NYA agreement and the plan of the Digital Currency Group-led consortium of companies to carry out a hard fork in November.
Since early September, bitcoin's price has struggled to recover beyond $4,500 due to uncertainty surrounding the Chinese cryptocurrency exchange market and SegWit2x. Analysts have started to demonstrate optimism towards the possibility of the Chinese government resuming cryptocurrency trading.
Hyperinflationary Period Over?
Chris Burniske, a partner at cryptocurrency-focused venture capital firm Placeholder and former cryptocurrency investment lead at ARK Investment, recently revealed that 80 percent of the total supply of bitcoin is now outstandingand that its hyperinflationary period is behind it.
Because there will only be 21 million bitcoins and no additional bitcoin can be created after the supply achieves its cap, only a limited number of investors would be able to hold one full bitcoin.
Bitcoin's deflationary supply, however, is not an issue for investors and merchants that adopt bitcoin as a digital currency because it is divisible. Currently, many bitcoin wallets and merchants use "satoshi" as a unit, with one satoshi representing 0.00000001 bitcoin.
Investors Flock To Bitcoin
Currently, many investors and traders have invested in bitcoin as a safe haven asset and a long-term investment. But, as bitcoin evolves as a technology and a robust financial network, it will soon compete with reserve currencies, existing banking systems, and traditional assets such as gold.
For the long-term growth of bitcoin's market cap and price, its deflationary nature will be a vital factor to sustain bitcoin's upward momentum and demand for bitcoin from the global market.
Several analysts, including RT's Max Keiser, Harvard academic Dennis Porto, and Saxo Bank senior analyst Kay Van-Petersen, have predicted bitcoin price surpassing $100,000 within the next 10 years.
Featured image from Shutterstock.
Written By Cryptocoinsnews